There's understandably been renewed interest in Michael Jackson and the continued accusations of child molestation ever since the Leaving Neverland documentary began airing on HBO this month.
Wade Robson and James Safechuck, both of whom had previously defended Michael against accusations, have painstakingly related exactly how the singer allegedly groomed and abused them over the course of many years.
Accusations against the King of Pop began in 1993. That same year he was investigated by police for allegedly molesting four children. No evidence was found and Michael denied any wrongdoing. However, in 1993, he also paid over $20 million to the family of Jordy Chandler, who accused Michael of molestation. This payment was revealed years later. And, as part of the settlement, Michael denied any "wrongful acts."
In 2005, another boy, 13-year-old Gavin Arvizo, accused Michael of sexual abuse, and the case went to trial (Michael was ultimately acquitted of all 10 charges). Here are some of the more bizarre and eyebrow-raising moments from the trial, according to reporter Tim Molloy, who covered it at the time.
Welcoming Fans To Neverland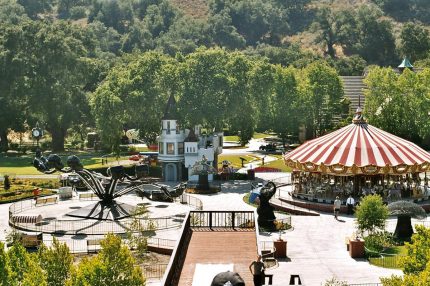 After one court date, Michael actually invited fans to visit Neverland Ranch, his sprawling Santa Barbara County property, where he had invited tons of children in the past, and which featured attractions like a ferris wheel and other rides.
This was where Michael had allegedly abused Arvizo and kept his family against their will. Fans who visited the property were allowed to wander the area, play video games, and look at Michael's collection of videos and mannequins. This seems especially bizarre considering the ranch was deemed by prosecutors as the scene of the crime.
Janet Jackson, Not The Sister
Gavin Arvizo's mother, Janet Arvizo, married U.S. Army Maj. Jay Jackson, essentially giving her the same name as Michael's famous sister. She was not a very good witness during the trial, often interrupting lawyers, giving confusing answers, and even snapping her fingers at the jurors. The defense painted her as a "grifter" who often used her children as pawns in her scheme to extract money from celebrities like Michael. Some believe she cost the prosecution the case with her behavior.
The Porn Collection
Prosecutors showed Michael Jackson's porn collection to the courtroom and all of its inhabitants, including Michael's mother Katherine Jackson. Magazine covers were actually projected onto big screens so that everyone could see them. The argument was that Michael had shown Gavin and his younger brother Star Arvizo these images in order to groom them before he allegedly abused them. It possibly backfired on the prosecution, however, because the collection was of heterosexual pornography, not child pornography.
Also, Michael's defense attorney, Tom Mesereau, used it as an opportunity to interrogate Star, essentially getting the young boy to testify that Michael had shown him a particular magazine that, in fact, Michael couldn't have shown him at all.
Jason Francia
Jason Francia was the young son of Michael's former maid. He also testified during the trial, breaking down into tears and saying that Michael had abused him during "tickling sessions." Jason also accused the singer of giving him $100 after every such session, presumably in an effort to buy his silence.
During cross-examination, the defense asked Jason if Michael had ever given him money, to which the young boy replied:
"Other than the money he put down my pants?"
The defense also tried to paint him as unreliable, because his mother had actually reached an out-of-court settlement with Michael for $2 million in 1993.
Singing About The 'Enemy'
Michael wrote a song about Tom Sneddon, the Santa Barbara County District Attorney, that was quite vicious. This was actually before the 2005 trial. The song, called D.S., appeared on the singer's 1995 album HIStory. D.S. stood for Dom Sneddon, which is what Michael called the attorney. The chorus was basically just "Dom Sneddon is a cold man" repeated ad nauseam, and the song included a guitar solo by Slash from Guns 'N' Roses.
Gary Coleman
Randomly, Gary Coleman, the actor from Diff'rent Strokes, covered the trial for All Comedy Radio's news division. Janet Jackson (Michael's sister, not Gavin Arvizo's mom) had a recurring role on the sitcom and dated Todd Bridges, who played Willis.
Marrying The Witness
In another bizarre turn of events, one of the prosecutors, Ron Zonen, ended up actually marrying one of the witnesses from the trial, Louise Palanker. Louise was a director, writer, and producer who met Gavin Arvizo in 1999 as part of The Laugh Factory's mentoring program for underprivileged children. She and Ron attended Gavin's wedding in 2013, which is interesting in its own right.
[Image via WENN]
Original Article : HERE ; This post was curated & posted using : RealSpecific
Thank you for taking the time to read our article.

If you enjoyed our content, we'd really appreciate some "love" with a share or two.

And ... Don't forget to have fun!